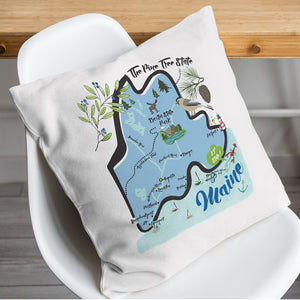 Maine State Map Square Pillow Cover
Featuring our signature hand drawn, full color city map designs, our plush pillows are made of 100% natural cotton, made in the United States! 
Our city pillows are wonderful as wedding and special event favors, to commemorate a memorable vacation, holiday and anniversary gifts, picnic baskets, party favors, or just to keep for yourself.
Pillow inserts are not included - please use a 16x16 or 18x18 inch insert of your choice with these covers.  Pillows will fill differently depending on the content of the insert, such as down vs polyester.  You may opt to get a larger pillow insert such as 18x18 if you prefer a more full pillow.